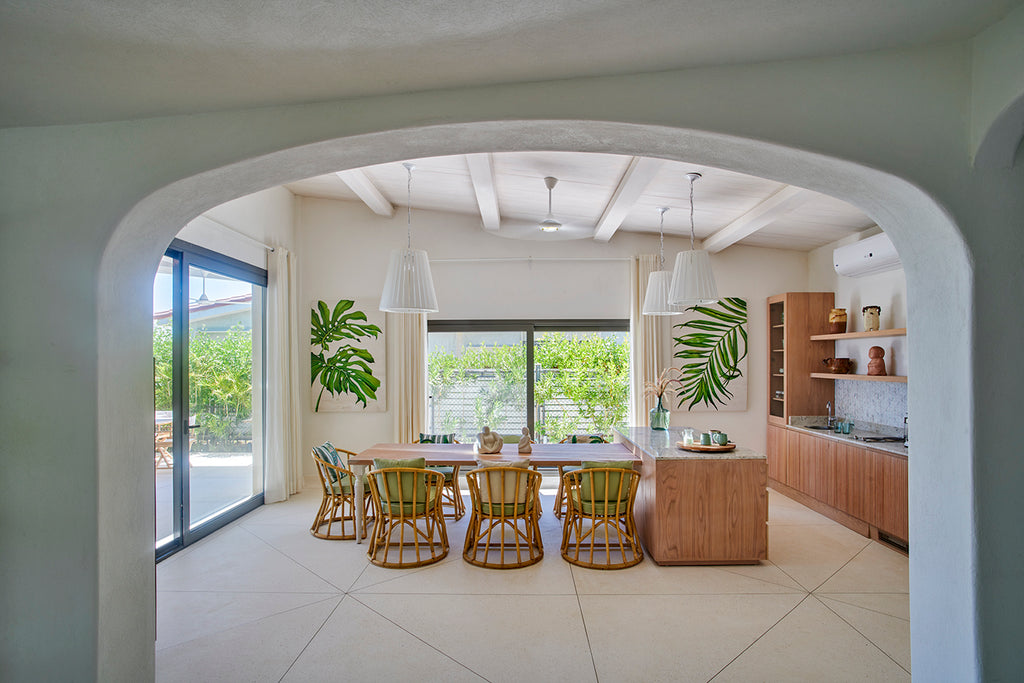 This exquisite beachfront property boasts five bedrooms and a lateral layout. Acquired by the client a few years ago, they engaged us to revamp the interior, curate finishes, furniture, and fixtures, and collaborate closely with the contractor to bring their vision to life. Our aim was to create a timeless ambiance that would cater to the needs of a multi-generational family.
From inception to completion, the project spanned two years, during which we meticulously ensured its functionality and aesthetic appeal across generations. Our aspiration was to infuse an artisanal and enduring quality into every detail, forging a seamless connection between the outdoor and indoor spaces.
The necessity arose for us to reconfigure the interior arrangement due to our discovery that the area initially designated for the master bedroom protruded prominently, impeding the natural airflow into the terrace. Consequently, we undertook a layout transformation to convert this protruding space into the primary sitting room. By equipping it with fully operable windows, we facilitated the inflow of refreshing winds onto the terrace, seamlessly merging the indoor communal space with the external surroundings. This adjustment also achieved the effect of positioning the terrace as the central nucleus of the residence, embraced harmoniously by the primary sitting room and the familial kitchen dining area.
We maintained close collaboration with skilled artisans we're acquainted with, orchestrating the creation of captivating handcrafted lighting installations. Among these, some were fashioned from clay to yield elegant wall lights, while others found form in discarded palm ribs, resulting in cage lights suspended above the kitchen counter. Prioritizing ventilation, we predominantly opted for fans, and we leveraged folding doors to accentuate the profound link with the outdoors.
A significant portion of the furniture and fixtures was meticulously crafted to bespoke specifications and drawings. To evoke an artful, sculptural essence, we delicately contoured the skirting and ceiling details. Bathrooms were adorned with feature walls crafted from artisanal, fired tiles, and a majority of the furniture emerged from sustainably sourced bamboo, aligning with our commitment to environmental consciousness.
Continue reading