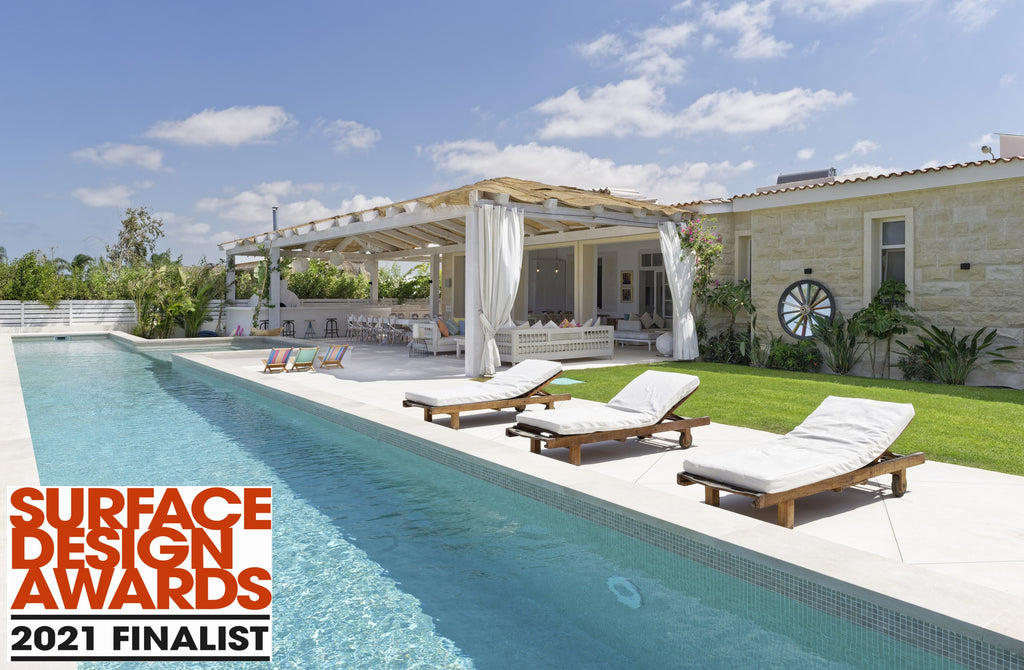 This summer a lot of the work we did was on this lovely project for Eklego Design Studio.
Hedayat and the client, Fatma Ghaly, worked closely together to create this summer home.
A space design catered to a unique sustainable concept for a family who were happy to lighten their environmental footprints and embrace sustainable interior design. When we were approached to design this house by the Mediterranean Sea, we decided to approach it from a sustainable angle capitalising on an age-old Alexandrian technique of hand poured terrazzo floors. We were very lucky to be working with clients who were encouraging and eager to experiment with different materials. The idea of a house based on local and sustainable materials intrigued them as much as it inspired us.

Richly patterned 'balat' tiles from Nile Co adorned the walls of the bathrooms. Most of the furniture was selected or designed in keeping with a local sustainable ethos. Eklego's reclaimed bed is in keeping with the idea of recycling. All the fabrics in the house were sourced from Jam by Hedayat as well as Inca, two companies which design and stock fabrics inspired by Egypt, its history and surroundings.

The most appealing, inviting spaces are adapted to the client's unique identity, creating a space that's a reflection of them and their preference. The design is inspired by the family's lifestyle, we worked directly with the client to map out their holiday home around their passion of supporting local artists and craftsmanship, so we built an exclusive 811 m2 place overlooking the beach of Diplo, a destination that combines luxury and comfort through an eco-friendly design. Going back to age old local Alexandrian tradition the whole house flooring features a hand laid local terrazzo, poured in a continuous zigzag pattern with copper inlays, creating a shabby chic look, which is further reinforced by the copper drum light at the entrance with the zig-zag pattern by Jam By Hedayat.. Reclaimed stained glass windows were up-cycled as decorative mirrors giving them a new purpose, bringing new energy to traditional form of glass, while the outdoor area is graced by a four-meter custom made dining table built around a reclaimed piece of carved wood owned by Fatma's mother, Azza Fahmy. The geometric lights by Randa Fahmy drakes the bar beautifully which in turn houses an outdoor bread/pizza oven creating an outdoor kitchen, for an open flame cooking experience.

To convey the feeling of an outdoor shabby chic, look even more, throw pillows and rugs entirely from recycled plastic bottles by Weaver green were scattered around the space. Taking advantage of Egypt's sun's energy to light up the home naturally, hand painted glass circles by Walid Onsy were positioned to pierce the ceiling of the house and adding saving energy to light up the place and absorb the most sun, minimising the need for electrical lighting. All of the living spaces, indoor and outdoor, capitalise on the natural breeze and gentle swirling fans with no air-conditioning units added.

Decorating the main wall of the master bedroom with geometric palm midribs panels, a material which is currently being developed as a local alternative to wood, is testimony to the couple's passion for Egypt, its materials, artists and artisans, creating the perfect balance of textures and giving the room a rich and pure essence, reflecting a connection towards nature, much like most of the house.
Continue reading